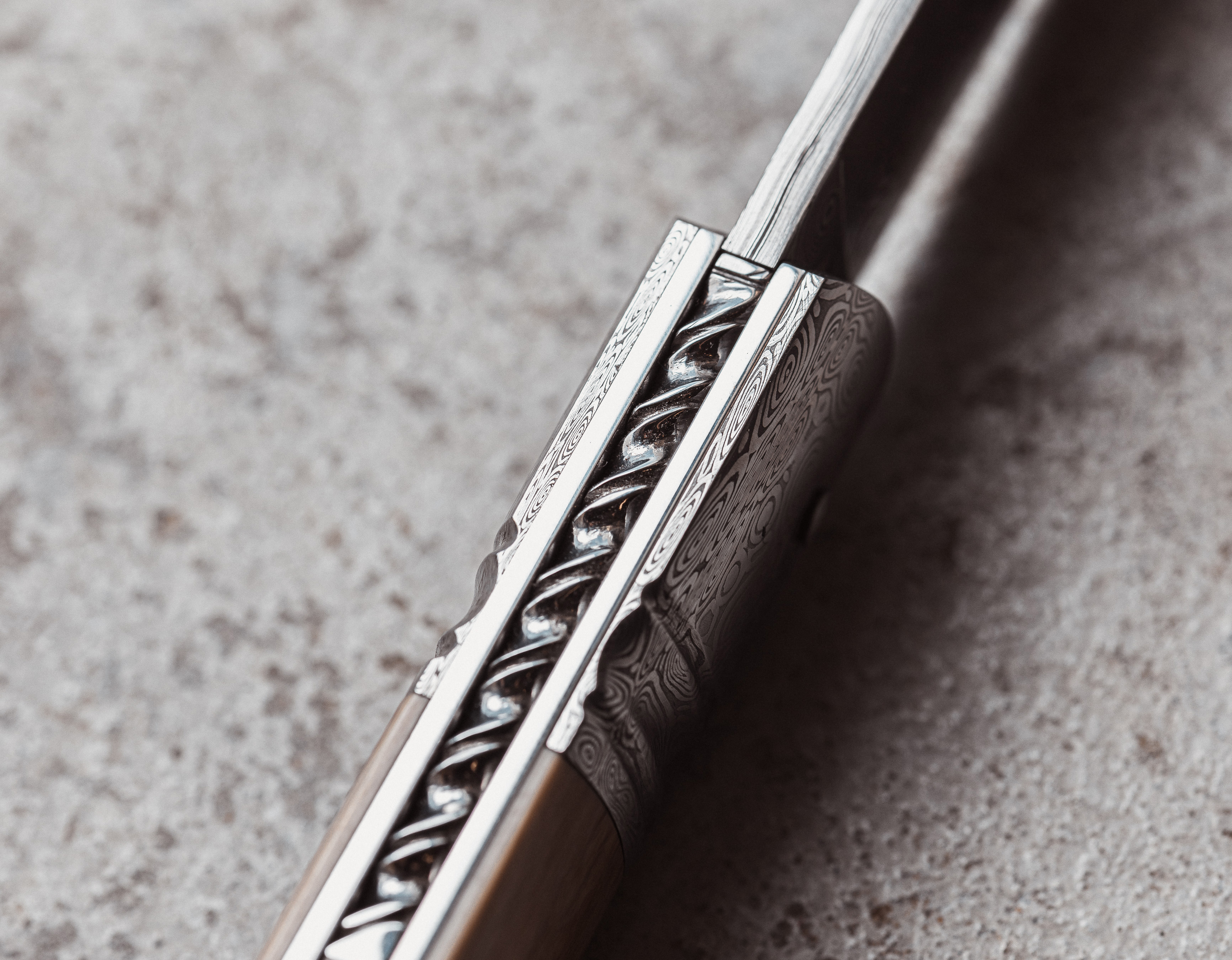 L'Alios, exceptional knife with mammoth ivory handle and damascus blade
Incredible and unique piece
Details
L'Alios - filed brand and design
The Alios takes its name from the sediments found in the Arcachon basin. This knife, designed in collaboration with Robert Beillonnet, twice Meilleur Ouvrier de France, has a rounded tip in homage to the knives used by fishermen. It will surprise you with its unique and ingenious rear locking mechanism. 
Discover this smart locking system here! 
This knife is sold in its cardboard box with its leather sheath and a certificate of authenticity.
Dimensions :
Large size : open 22 cm / blade 10 cm / closed 12 cm 
French manufacturing in our Atelier in Bidart, Basque Country
Fabrics
HANDLE
Unique fossilized mammoth ivory handle, 160 layer damascus bolster. Hand filed twisted spring and mammoth ivory insert. 
BLADE
Stainless damascus steel 160 layers : we can compare this technique with puff pastry. This steel is composed of RWL34 for the shiny parts and PMC27 for the dark parts, merged together at 1220°C, then hammered, stretched and folded several times on themselves.  It is the best steel you can find nowadays ! 
Maintenance
Except plastics that are not sensitive to water, noble and precious materials we use for our creations like woods, horns, mother-of-pearl, fossilised ivory, etc, don't appreciate to soak in the water ! Just wash the blade with hot soapy water and dry carefully the knife with a soft dish towel. You can also moisturize the wood from time to time by rubbing it with a drop of vegetal oil. Our creations are not dishwasher-safe.